Become Unapologetically YOU.
My Message
The quality of our lives depends greatly on the relationship we have with ourselves. While relationships with others are important, our own relationship with ourselves affects EVERYTHING.
Do you pay attention to how you talk to yourself and think about yourself? Is it kind, uplifting, and supportive? Do you consider yourself one of your favorite people or someone you admire?
Do you find yourself apologizing frequently or saying yes to things you don't want to do? Do you feel lost and unsure about your purpose or burdened by guilt and the fear of not being good enough? Are you constantly comparing yourself to others?
What if you could experience true FREEDOM? Freedom to want what you want, be authentic, say no to what you don't want, and say yes to what you do. Freedom from judgment, doubt, fear, and comparison.
It all starts with YOU. Stop waiting for something or someone to create the life YOU want. If you're unsure about what you want or where to start, I can help you. It's not complicated, but it takes commitment, honesty, openness to new ways of thinking, and a willingness to feel and talk about it.
I'm passionate about teaching and coaching you through this journey of self-discovery and growth. Are you ready to take the first step toward living the life you truly want and deserve?
Why Forgiveness?
Forgiveness is the act of letting go of resentment or anger towards someone who has wronged you and releasing any desire for revenge or punishment. It involves accepting that the wrong has happened but choosing to move forward without holding onto negative emotions or seeking retribution.
Forgiveness is a complex and often difficult process, and it does not mean that the wrong done to you was justified or that you condone the actions of the person who hurt you. Rather, forgiveness is a personal choice to free yourself from the burden of negative emotions and to find peace within yourself.
Forgiveness can have many benefits, including improving mental and emotional health, reducing stress and anxiety, and improving relationships with others. It can also help to promote empathy, compassion, and understanding.
However, forgiveness is not always easy, and it may take time and effort to achieve. It may require processing and work through difficult emotions, and it may involve setting boundaries or seeking support from others.
Overall, forgiveness is a powerful act that can bring healing and peace, both to yourself and to others.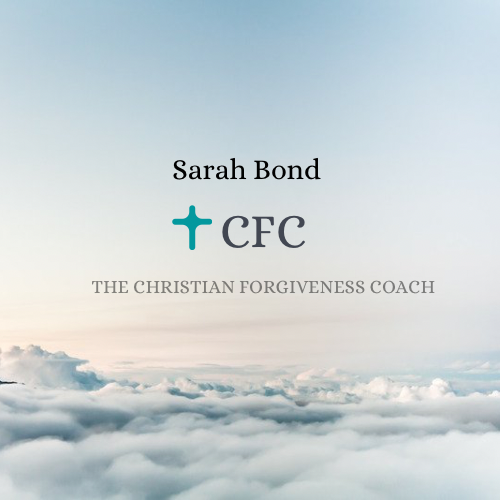 Do not be conformed to this world, but be transformed by the renewal of your mind, that by testing you may discern what is the will of God, what is good and acceptable and perfect.

– Romans 12:2 ESV
About Me
I'm Sarah, child of God and homeschooling Mom. I was born in Palo Alto, CA and grew up on Anna Maria Island, FL. I was saved in February of 2000. Host of the Podcast "Forgive Everyone For Every Thing Every Day Right Away" and YouTube Channel The Christian Forgiveness Coach.
Education
I am a certified Life Coach with The Life Coach School and a minister at Word of God Counseling in Greenville, SC. I graduated with a B.S. in Animal Science from Cal Poly, San Luis Obispo, CA. I studied Parelli Natural Horsemanship for 2 decades. I have devoted the past 5 years of my life to studying and practicing forgiveness. In the past 3 years I've coached thousands of clients on their relationships.
1:1 Coaching
Private weekly 1:1 coaching where we can get honest and real about beliefs and thoughts that are holding you back from being Unapologetically YOU.
Let's see if we are a fit. Your first consultation is on me!